1988-89
Chronology (from the original Jesus Jones website)
1988
June - Formed, allegedly on a beach in Spain, on a beach in Spain, on a beach in Spain where they got their name.
October - Said "Hello" to Food records.
December - Said "Hello" to Food records properly, with money involved.
Andy Ross, then deputy head honcho at Food Records, opens up his briefcase in Camden's Devonshire Arms. Inside is an inferior brand personal stereo with no discernible bottom end. Excitedly, he places the crappy headphones upon your correspondent's ears and presses the play button. I hear the trademark wall of noise, the sound of guitars being churned up in a barrage of electronics, the insistent, incensed chorus. "So Crazyhead have discovered that there was always a dance element to their music?" I say. "Or have Gaye Bykers finally worked out how to play their instruments?" Wrong and wrong. The name of the band is JESUS JONES and the song, 'Info Freako', a demo, sniffs the proverbial pissed on lamppost that is the Top 40 when it is released the following February. It sneaks in at 42. Around that time, the assured, beret-wearing, basketball-booted Jesus H Jones (aka Mike Edwards) and his cohorts start appearing in the press. Edward's moniker is perfect: religious icon-drug acronym-everyman. And in a world obsessed by soundbites, Edwards attitude is perfect too: he handles himself like he was on a personal crusade to reboot rock 'n' roll at a new year zero. On paper then, it's already in the bag but what about in the flesh? Early on, JESUS JONES play a gig in the packed bar of London's U.L.U. in a four-one formation. At the back is mild- mannered janitor and drummer Gen (Simon Matthews); upfront it's a three-pronged axe-attack plus keyboard player Barry D (aka Barry Dogg, or plain ol Iain Baker), head shaking like a fermenting Pet Shop Boy. Guitarist Jerry de Abela Borg is virtually pinned into a corner by bass player Al Jaworski's (Alan Doughty) unfeasibly flailing hair extensions and Edwards' uncontrollable exuberance. It's official! The compression of dance, hip-hop and rock through one mixing desk works onstage too. In June the band release a second single, 'Never Enough', another Number 42. JESUS JONES become Eurostars, playing the Lorelei Festival in Germany, then come home to take a tin opener to David Bowie's arse, playing support to the rusty Tin Machine. The live spectacle is further tested during a U.K. tour and at Reading Festival, after which JESUS JONES reach Number 46 in September with 'Bring It On Down'. The album, the aptly-titled 'Liquidizer' follows a month later. The album sleeve lists 38 influences as far ranging as Big Black and Eric B and all of them seem to have been pureed in the rush to blend the entire back catalogue of western civilisation. It notches up a respectable 32 and goes silver before the year is out. In November, synchronicity strikes when JESUS JONES cover grebo godheads Crazyhead's 'I Don't Want That Kind Of Love', for the Food Christmas E.P. The video is recorded for the princely sum of £95 at Star Trax in Piccadilly's Trocadero. The band finish off the '90's in style, playing at The London Town & Country Club (now The Forum) and having praise heaped upon by all the inkies. Hurrah!
1989
February - First single "Info freako" (5 demo version) released, gets to #42 in the UK and becomes a cult classic there and in Australia. This means they'll always have to play the bloody thing live.
March-June - Support gigs to ace bands like the Shamen and the Wonderstuff. Lots of iffy gigs on their own.
June - "Never enough" single released, probably only because it was the favourite of Food big wig Andy Ross. Nonetheless, it reaches #42. Again.
July - A bit of a tour on their own.
August - Jesus Jones appear on the last day of Reading festival.
September - "Bring it on down" single released and is the first single not to get to #42. It gets to #46.
October - "Liquidizer" album released, reaches #32 on UK album chart.
November - 2,200 people break the fire regulations at London's Town and Country club to witness the bands last gig of the decade (it didn't seem that momentous at the time). JJ contribute a track to the Food Christmas ep. The promotional video for the the track, "I don't want that kind of love" was recorded live at at Star Trax, in the Trocadero, Piccadilly Circus for a total cost of £95. That's what it's like, being signed to Food.
December - In the readers polls of Melody Maker, NME and Sounds, Jesus Jones come 5th, 3rd and 2nd respectively in "Best New Band" category. "Info freako" makes all three papers "Best Single Of The Year" Top 10.
Foreword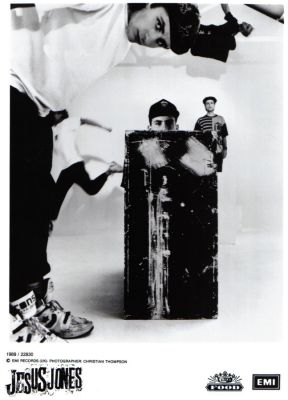 Mike and school friend, Simon Matthews (Gen), were brought up in Bradford-Upon-Avon, Wiltshire, and had played together in various bands. In late '86, together with bassist Alan Doughty (Al Jaworski), the pair relocated themselves to Walthamstow in London, with their band Camouflage.
They played numerous gigs and produced demo tapes, which were touted around London record companies. During this period, they had their first contact with Food, but it was almost two years before they eventually signed to the label. In fact, Welcome Back Victoria was around from about 1987.
After achieving little success with Camouflage, the three-musician Big Colour were formed, but once again, live dates and demos did nothing to encourage their optimism or career. In the summer of '88, whilst they were on holiday in Spain, Mike, Gen and Al took time to totally re-think their strategy. They had just acquired a sampler, and with this new-found interest in technology decided it was time to change the face of modern pop.
Jesus Jones were formed as a reaction against the failure of all their previous bands. "I found the name on the back of a Spanish pack of crisps," insists Mike. In truth, it was part of a much more contrived scheme. With the addition of Jerry de Abela Borg (guitar) from Wembley and another Wiltshire lad, Iain Baker (keyboards), the line-up was now complete. Iain (Barry D, or Barry Dogg) was manager of Slam City Skates, so the band's early 'Skatepunk' image was largely due to him arranging them a discount.
During the previous couple of years, Gen had been a regular visitor to the Food headquarters, and in October, he played them a copy of the first Jesus Jones demo tape, "Info Freako"/"Broken Bones"/"What's Going On". (Mike, in an answer to a question in 1994 says that Info Freako, Never Enough and Cut And Dried were the first songs sent on a demo tape, the songs were written Jan - March 1988). No one was prepared for such subversive pop and in December, they were signed to Food Records, distributed by EMI, on the strength of the demo alone.
The most outstanding and original debut of the year was about to burst into the Top 50, and in February 1989 "Info Freako" was released. An aural assault, fusing raw guitars, hip-hop beats, twisted samples and seething vocals in an 80s wall of sound, it created a genuine alternative to most of the stale music cluttering the national charts at the time.
After good reviews, EMI decided to push it as their priority single and attained daytime airplay from the usually conservative Radio 1, as well as TV airings for the accompanying promo video. Reaching No. 42 in the BBC charts, the single was radical enough to swell gigs from desolate nights in small clubs, to a sell-out at the University of London Union (ULU) within two months.
Jesus Jones were getting a great deal of press attention and allegations of hype were muttered. This adverse reaction was helped by Mike's revolutionary claims about the band's music. Their unshakeable determination and self-belief were quickly mistaken for arrogance.
Low-key gigs including support slots with the Shamen and the Wonder Stuff, drew enthusiatic audiences and excellent reviews. In April they started their first headline tour before recording their first album in the confines of Townhouse Studios throughout June.
Many critics were speculating that Jesus Jones would find it hard to live up to the debut single, but these doubts were soon vanquished with the June release of "Never Enough" - a song inspired by the Woody Allen film "Stardust Memories".
It was a conscious decision to release a follow-up that was completely different to "Info Freako" and with its driving hardcore-pop, it appealed more to fans than to people at Radio 1. Although they tried to issue the least commercial single they could, the fact is that it was equally successful as the first, reaching No. 42 in the charts.
In late June 1989, Jesus Jones played at the Rhine Lorelei Festival before returning home to blow Tin Machine off stage at the Kilburn National. Riding on the success of two singles, they then took off on a tour of their own and appeared at the Reading Festival on the final day (August 27th) in preparation for the first major headlining tour of the UK and the release of a third single in September.
"Bring It On Down" was similar to the previous releases, with tormented layers of sound and energy. Like its predecessor, it just entered the Top 50.
Hot on the heels of "Bring It On Down", October saw the release of the band's debut album, "Liquidizer" - apt title considering the blend of different musical styles contained within. It features all three singles and was produced by Craig Leon, who had previously worked with Blondie, the Ramones and the Primitives amongst others. On reflection, Mike felt they'd tried to cram too much in, and there were so many different things happening, that some of the songs lost their impact. Others perceived its relentless pace and impenetrable grooves as one of the best albums of the year. Either way, it soon went silver in the UK.
In late November, Jesus Jones filled London's Town and Country Club for their final appearance of the decade. 1989 had been a good year for the group. They had three Top 50 singles and a silver album, and to cap it all, in the end of the year readers' polls in Melody Maker, NME and Sounds, they were voted fifth, third and second respectively in the Best New Band category, while "Info Freako" made all three papers Best Single Of The Year Top 10. Not bad for a band barely a year old.
Before Jesus Jones (1986-1988)
Camouflage and Big Colour, the bands that became Jesus Jones, recordings exist as the pictures below show.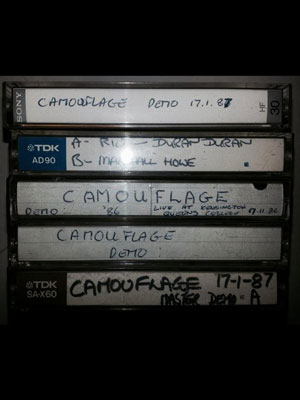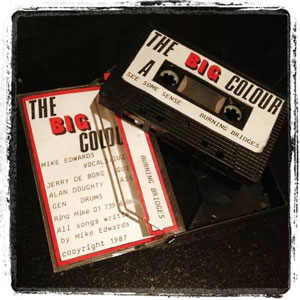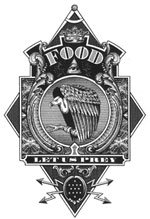 The story of the Jesus Jones logo - Q Magazine
When Rob O'Connor of Stylorouge was asked to design a logo for Jesus Jones their mix of rock and dance styles was so new that there were few precedents to define the visual approach. "The nearest would have been Pop Will Eat Itself but, while we wanted to tap into the 'techno-anarchy' thing, we didn't want to look like them," points out O'Connor. "We put forward a lot of techno-type ideas which the record company liked but they said they weren't barbaric enough. It was that one word, barbaric, which put us on the right track."
The finished logo, used on all three Jesus Jones albums, was an old woodblock typeface, deliberately hashed around to create the double images.
Early Gig Flyer - Pied Bull - December 1988 (click on the images to see the full flyer)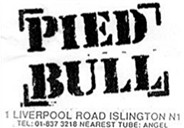 Early Gig Flyer - The Cricketers - December 1988 (click on the images to see the full flyer)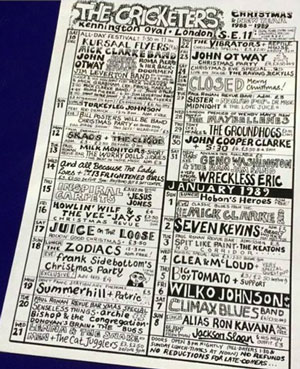 Early Gig Poster - Dingwalls - 9 January 1989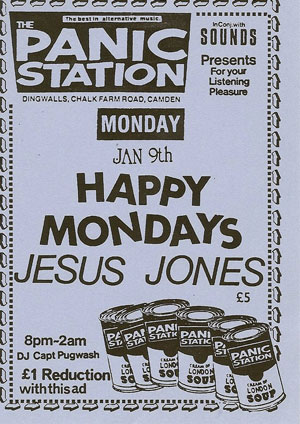 Early Gig Flyer and band photo - Kentish Bull & Gate - January 1989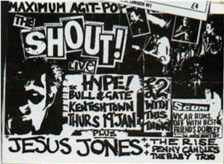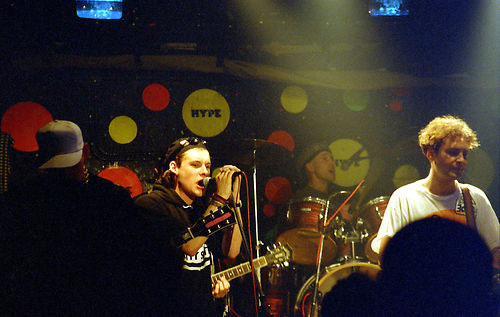 Interview with Mike Edwards - Melody Maker - January 21st 1989
Meet the first superstar of '89. Jesus Jones - skatecore cyberbrat, popstar anmd incipient sex symbol - is going to be part of your world this year. Count on it, because this young Londoner and his band incorporate a whole pantheon of obsessions and buzzwords that just can't miss. Jesus talks Big Black, Kylie, My Bloody Valentine, skating rapping, f***ing, trash-pop and melody. Jesus is absurdly photogenic, which will come in handy when he hits the charts (the big charts, as opposed to the indie ones), something he expects to do within months.
The tape I've heard is a morass of screechy guitars, acidic feedback, sampling and Top 40 looks. The live show is, I hear, completely monstrous, with any pretensions to tunefullness compressed to a minute core. Yet evidently, there's none of the deadening negativity and nihilism of the noise groups Jesus identifies with.
"That's probably because we use sampling, as well. On its own, the noise could be negative. They're (Rapeman, etc) all totally fixated by the present. They don't really want to take the whole era forward. I don't know, I'm thinking about it too much. I mustn't think about it too much, this is terrible."
Do you get transported by what you do?
"You mean like blissing out? No, I couldn't be hippy enough to do that. But you do get lost in this white-out of noise. You don't realise pain, and you don't realise how stupid you look. But it's not like Spaceman 3 do, when you have a five-minute drone. That's too self-indulgent for me. That's real hippiness, as far as I'm concerned. I don't like that."
He's an articulate proponent of the Brit skateboarding underground and its peculiar attendant rituals. The aggression of the scene is, he says, reflected in his music. "Shall I be like Boy George and say I'd rather skate than have sex?" He considers that for a minute. "No, God, don't print that, I'd much rather have sex than skate."
"He's got an anarcho-syndicalist approach to his songwriting," comments his manager.
"I write about the negative things in life, cos those are what move me."
Do you watch the gory stuff on the TV news?
"No, it reminds me of rehearsals too much."
The Devil hasn't got all the best tunes.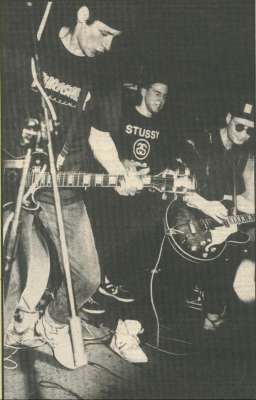 Review of gig at Camden Lock Dingwalls Panic Station - Probably from Sounds - circa January or March 1989
This is silly. Having negotiated my way to the prime band-viewing spot at Dingwalls - jammed up against the gents toilet door - to observe the refreshingly careless rock mannerisms of Jesus Jones, I'm being told to move on by Mr Local Helpful Security Man.
OK, fine. It means I can't see the band, though. When Jesus Jones do elbow their way into my much impeded line of vision it's a cartoon strip in freeze-frame. Screaming Blue Messiahs might have proclaimed their desire to move to Bedrock, and make like Fred 'n' Barney, but their manic frenzy stylings never amounted to this much animated cheescake.
JJ are a typically British approximation of a bona fide (American) rock band. They ring entirely hollow on those terms, but as a spunky, pseudo-mean tune combo they impress.
The singer (Jesus? Mr Jones??) apparently realises that the right hand PA speaker (uncomfortably adjacent to my ear) is totally duff and compensates with an overload of guitar posturing. He makes us laugh and this seems fair enough.
Serious but not po-faced on this showing Jesus Jones have several moments of rough-hewn pop glory lurking within. Mr Local Helpful Security Man almost smiled.
Review of gig at Camden Lock Dingwalls Panic Station - NME - circa January or March 1989
With the cock-sure cheek of an under-five-year-old, Jesus Jones are cunningly arrogant without smelling of brutishness. If they're like anything, they're like the kids in the park who pinch your football and then give it back just before you're going to clobber them.
Leaving their nappies behind to sign for Food Records, these dorkish rascals now have the ring of confidence that tells you to take notice of them. Even through tonight's obscene sound mix their promising blend of bully-beats and rakish guitars stands proof of the hurricane conditions they can create.
Singer Jesus H Jones, with the dress sense of a reformed JoBoxer, careers round the confined stage wrenching a beautiful wailing from his beleaguered guitar. And when he sings the line " I want all your eyes on me" people comply unquestioningly (naturally preferring his leering face to the Dougal Dog hair-mop of the bassist).
Jones' vocals are the key to the sound, sometimes its saving grace. In their efforts to pack their songs to the full - blistered guitar, keyboards, drums from a maniac and samples - they veer close to medical complications. But Jones' climbing and diving delivery holds the set together like a belt wrapped round a stomach full of inbetween meals.
He is a star in the making. I've been assured this even by people without construction kits. Like a Clint Poppie or a Miles Wonder Stuff, Jones barters for attention, adlibbing over the heads of hecklers as the band move in with reinforcements: 'Info Freako' and 'Broken Bones' being just two of their pummulling pop numbers in the (cough) arsenal.
When they skid to a holt, Jones is at the reins again, giving us the twirl of an angry Townshend. It ends like this: "This is our last song... (faint appluase)... Oh, you've heard of this one before, we like it as well."
That's all we need. Another smart arse.

Review of Info Freako - Probably from Sounds - circa February 1989
These boys are too cute for their own good. Which, typically, has done no harm to this pop-tech confection, tailor-made for mindless nodding in nightclubs.
Square-eyed, airheaded but with a smashing collection of computer games, Jesus Jones lurch through their lopsided debut, their swagger adding to the commotion. Yet - and perhaps this is a trait of future pop - no matter how many times you play it - it never becomes catchy or truly interesting.
But, since they've all gone to the trouble of buying new leather jackets - and they ain't cheap - the very least you can do is buy it.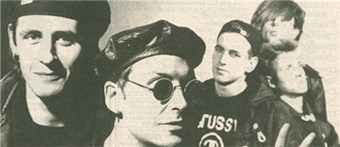 Interview by Steve Lamacq - NME - 11th February 1989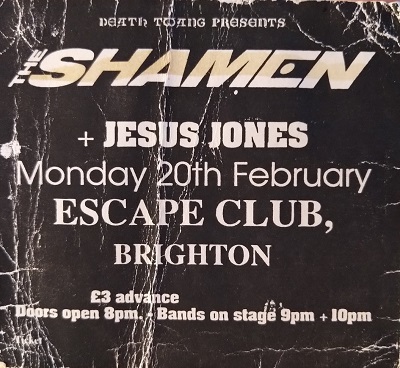 "I'm thinking of doing what James Brown did with his backing musicians and fining the rest of the band when they play bum notes. It's be great, I'd make a killing."
Eyes sunk deep into his head, Jesus H Jones is a seething young oik with a rich future. With his ego wrapped in a Slam City Skates sweat top the singer/guitarist is a lean picture overflowing with confidence. And, given his band's brief history, it's not hard to understand why.
Formed last August, London based five-piece Jesus Jones "became brilliant very quickly" and signed to Food Records before the year was out. In the past two weeks low-key gigs have drawn enthusing audiences, including Gaye Bykers and Beehives, and the band have now shot footage for their first video and Thames TV appearance.
Then there's the debut single 'Info Freako', an audacious 45 packed with a mix of manical guitars and twisted samples that puts them somewhere between Crazyhead and Tackhead. It's an example of how bands can take Pop Will Eat Itself's techno-rock one step further.
"I had the idea for it after thinking about how various well-known rap stars are always dissing younger acts because they're scared of being overtaken by them," explains Jesus (real name: No Comment).
"And I thought how do people try to rise above others - originally it was through education, but now people read and use so much trash."
Jesus H Jones radiates a starring role . If he's in his element on stage then he's in the firmament for interviews. Without him this band would still be in the wilderness.
"I can't stand people who say 'it's terrible when you're famous because you can't go on a bus'. That would be great. Who wants to go on a bus anyway? I like stars, people who are larger than life."
There's a place already reserved for Jesus Jones in the hallowed ground of the Top 40. Whether it's for 'Freako' or the singles that'll follow, they'll certainly be there this year rubbing shoulders with The Wonder Stuff.
What JJ bring to the label is an experiment - they're technicians for a snotty new pop music that's distinctly clever.
"I feel quite a responsibility owning and using a sampler, performing live and making records, because if you have one of these machines and you use it in a 'pump up the cliché' way, that's irresponsible.
"It's not doing anything new, when really you should be taking it one step further, because I think sampling to the '90s could be what the electric guitar was to the '60s. Sooner or later there'll be a Jimi Hendrix of sampling and I want it to be me."
But if Jesus Jones' studio sound is tuned-in, well planned construction, the band's live show is more like a freshly-laid brick wall with samples seeping through like over-excited cement. Out-front, cavorting like he's been stung by a bee is Jesus H.
"I've always tried to get people to look at me," he admits. "When I get on stage and pick up a guitar this enormous ego drops on me. Everyone has this ego but I'm one of the few people who get to use it."
Along with Zodiac Mindwarp and Brian Clough.
"Looking back on it, I could have got beaten up at Dingwalls the other week. There were two people standing at the front and while I was in the middle of singing one line, one of them lit a cigarette and blew the smoke out in front of me. And I really hate that. So I stared at him and said (very sternly) 'Don't do that'. You should have seen the shock on his face."
Thou shalt not smoke then?
"Well thou shalt not blow it out in my face, certainly..."
"Nobody's taken offence at the name yet," says the singer. "But inevitably someone will. There's nothing actually wrong with using the name Jesus and I think if people realised that, it would be really good. One of the problems with religion is that everyone's so precious about it - we're being slightly flippant, but if that helps take some of the preciousness away that'd be excellent."
Jesus H doesn't go to church. But you can imagine the church coming to him with complaints.
Interview by Mary Anne Hobbs - Sounds - February 1989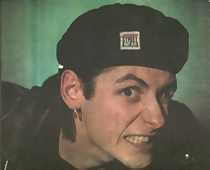 The boy calls himself Jesus H Jones.
He wears a black cap, tilted at the kind of precarious angle that bedroom revolutionaries fantasise about.
Deep in the recesses of a dim Soho bar, the wiry, animated singer with this month's sonic messiahs, Jesus Jones, slugs low alcohol lager and contemplates blasphemy.
"The name? Well, I don't suppose the Catholics will approve," he says. "But it'd be worse if I was called Mary H Jones, I expect. I was actually christened Horace Buckland, and I just fancied something a little more racey."
Jesus Jones' debut single, 'Info Freako', is brilliant. Released on Food last week, it's a sticky, sneering slice of megalomania that has been unexpectedly drooled over by Radio 1's Bruno Brookes, among others, and is set to smash into the charts.
Slavering, wretched, crash groove guitars mangle a slipstream of shrieking samples. Jesus sounds like he's been sukcing on an exhaust pipe, but his acrid voal traces a sweet, barbed melody, designed to snare and submerge the listener.
It sounds like the kind of record Pop Will Eat Itself would love to make, but probably never will.
"'Info Freako' is me singing in the first person, but I suppose I mean the thrid person." decides Jesus. "It's about a rather unpleasant and very paranoid person who feels the need to rise above people, and does so through the acquisition of information. The more you know, the more you have over other people."
"It probably doesn't sound very cool, but that's probably me!"
"I'm actually hoping that some degree of success will allow me to rise above people. Then I suppose I'll either find the whole idea very hollow, or I'll become a bloated and and disgusting star!"
The flipside of the single, 'Broken Bones', is equally brittle. It's a cold riveted backwards glance at the fragments of some polluted, ultimately discarded affair.
"That's me at my vindictive worst," admits Jesus. "I hope I never write a song as horrid as that again."
"What I was really trying to say was that, in the course of any relationship, not necessarily boy/girl, some things change forever. You can never go back. I don't like the words, but they have to be sung. When I wrote the song, I really meant it, and I can't chicken out now!"
So you're a pretty bitter and twisted kind of bloke?"
"God. Yes. I suppose I must be," he concedes. "I do find it completely impossible to gush about niceties. But the band are even worse. They are incredibly horrible, evil little people."
The absent evangelists (whom Jesus later admits are, in fact, "really very pleasant, humble blokes") include drummer Gen, bass player Jaworski, guitarist Jerry De Borg and sample player Barry A (for Arsehole, apparently!) God.
"We were really crap at first," remembers Jesus affectionately. "But about six months ago, we all started trying much harder than we had been doing."
Now we're quite ambitious. The band want flash cars and credit accounts at Woolworths. Nut basically what I'm after is fame."
And what are you prepared to sacrifice for fame?
"The rest of the band, certainly!"
Live, Jesus Jones are vicious and thrilling. But expect no more from their support spots with The Shamen (which start this weekend) than a fast blast through eight fevered tracks - maximum.
"We've got loads of songs," Jesus assures me. "It's just that a 25-minute set seems to me, to be a long time."
"I've got to play my way all through that, and I get sweaty, y'know. I look down at the people in front of me and I think, God, look at the state of you lot, I don't think I want to get sweaty for you."
"We don't really play for other people because we're so incredibly arrogant. We only want to play for ourselves. But if people want boring two hour rock concerts, I Believe Yes are reforming."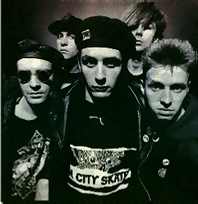 Despite such flippancy, however, Jesus Jones are under some pressure to make a success of the band, following their ceremonious dismissal last week from their former employment in the rubber retail industry.
"The band were selling wellington boots, among other things, in a rather off-beat fetish shop," reveals Jesus. "And I worked at the DHSS. It was really interesting, being on the other side of the counter."
Did you ever get assaulted?
"No, luckily I was further back in the chain. I actually wrote out the cheques. I spent the whole time trying to figure out a way of embezzling vast amounts of cash. It is possible, but you had to be the bloke above me, and you also had to leave the country very, very quickly. But it is possible, and when the band fails that's what I'll do!"
Isn't that tempting fate? After all your namesake, The Lord JC, had a pretty sad demise - the guy was crucified.
"If we keep playing for 33 years I'll be very pleased," says Jesus.
"33 years and then the resurrection - the comeback. Wow, I can hardly wait. I think I'll go home and start planning it now!"
And suddenly Jesus is walking away, on a puddle of Fosters, without even getting his boots wet!
Gig Review By Dele Fadele - London Harlesden mean Fiddler - NME - March 2nd 1989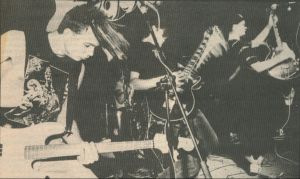 Take one: Narcissus awoke before dawn. He put his boots on. His multi-hued reflection in the mirror answered to the name Jesus Jones, a stupid, psychopath-chic moniker; some five-headed hydra that constructed edifices of contemporary noise from scraps of disinformation.
Take two: Forever on the verge of complete collapse, Jesus Jones are living in a forest of ghosts. While beating a retreat from the sanitised corridors of machine-perfect '89 pop crescendos, debris and fallout from all the significant groups of the last three decades are churned through the liquidiser and spat out in eaily digestible, four-minute chunks.
Take three: It's hot and dense with evaporated sweat in here. I've seen more breathing corpses in an elephants graveyard. Perhaps the seemingly apathetic cognoscenti are just stuned by the vibrancy and scary demeanour of these bastard children of Pol Pot, Idi Amin and Jim Jones. Mutated hip-hop beats wrestle with waves of feedback and cursory nods at melody. Looking groovy isn't a punishable offence, and this motley crew place all their assets - and the kitchen sink - on a plate.
CUT.
'Info Freako' is gigantic: some towering monolith of caterwauling ego-soup, by turns indecisive and claustrophobic, the standout track tonight threatens to swamp all the other allergories for contempt in its wake, incompetence sometimes mars Jesus Jones' escapades in dancefloor dynamics, while the lyrical content and gruff warbling are better left undiscussed, but - this is important - the overall effect rips your guts and tugs at your erogenous zones, seemingly without effort.
They have an almost lackadaisical relationship with technology: samplers are wheeled out for decorative purposes only, as if to subtitle those rough-hewn symphonies with an element of humour. Meaning always sinks in later, as in-depth analysis of something this disposable yet trenchant is like barking furiously at the moon - useless.
JJ excavate the roof of your skull. Rude, pampered, boisterous and quite dazzling.
Interview - Melody Maker - March 11th 1989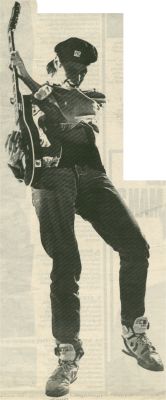 He says that he loves to talk about himself, that he's insufferably intolerant and that he's a great admirer of the London bus service. Whenever possible, he hops on a number 31 and takes his skateboard to the concrete playground lying under the Westway flyover. He boasts that he's sufficiently competent to incite a chorus of "Yeah!", apprarently the customary yell of approval in the skating fraternity. He claims that he was christened Ignacious T. Wilderbeast. But it's as Jesus Jones that he's beginning to make something of a name for himself.
He is the vocalist, guitarist and songwriter of the band also called Jesus Jones, a garrulous, affable and occasionally flippant young man affectionately known as "The Boy Wonder" by his record company. The nickname is not without considerable justification for, within a few weeks of joining the roster of the Food Records and Management conglomerate - a roster which includes Zodiac Mindwarp, Crazyhead, Voice Of The Beehive and Diesel Park West - Jesus Jones have become Food's most commercially successful act to date.
"Info Freako", their debut single, has rocketed into the Top 50 less than one week after its release, taking everybody by surprise. The fact that the band has been together for several months short of a full year and that the track has been issued in an original £120 demo form should also be noted. The Jesus Jones story seems to be a tale of fairly extraordinary madness.
Chaos certainly reigns supreme throughout "Info Freako". It's a tangle of literally hundreds of different elements and there's a feeling that's just about anything could happen next. The vocals are scrubbed raw and embossed with FX, the best thumps and humps almost to crumbling point, there's a rattling snake of percussion, a single, short sharp guitar solo and one crashed chord after another. It begins and ends with a French radio broadcast and wrapped up in the middle are samples of skidding cars and indescribable hiccups of noise.
"All the things I'm interested in are on there - somewhere," says Jesus. "Crappy pop songs, House stuff, a bit of hip hop and thrash guitar bands. Jimi Hendrix makes a guest appearance but I'm not telling you where. The trick is to play the record backwards. We've got this sampler which spins things out back to front. The other day we discovered that Finsbury Park becomes crappy rub sniff. It's brilliant" There's also some Run DMC in there - God, what a shitty band to include - and Faith No More. They're not too good either, but they have some nice sounds on their records and that's what's important."
Undoubtedly because of their use of samples and the lashing of rock guitars to dance rhythms, Jesus Jones have been compared to Big Audio Dynamite, both as a compliment and an insult. The single has been described as hi-tech and "sci-fi punk" but Jesus is unable to wholeheartedly agree with either of these perceptions.
"People certainly seem to see the band as having a strong punk inlfuence and I'm not very keen on that idea. Punks are now basically what hippies were 10 years ago and, to me, using that word makes us seem like The Grateful Dead. We've probably got a punk spirit and that, in some ways, is more important than the actual music.
"As for hi-tech, well that's nothing but a lie which musicians use to baffle people, to try to create an impression and an image which I detest. Sci-fi books and films bore me and anything to do with the 21st century is basically a load of old bollocks. The human element shouldn't be forgotten. So, yeah, we may seem to use hi-tec equipment, but it's only a musical computer. And most 10-year-olds can work computers better than us."
The 12-inch also features "Info Sicko" and "Info Psycho", two radically different versions of the song, the former a more spacious arrangement but for the additional scratching and samples - wheezes and whoops, squeals, squeaks and screeches, the bellowing of a bull and a yapping, yelping, howling dog. "Info Psycho" is a slightly slower and yet more obviously a dance track, the sounds bubbling and wobbling as though they've been recorded underwater. It has a distinctive acid flavour. It also has John Peel's voice booming "born to be a skate boy".
"I'm sure that he doesn't know he's on it and he certainly hasn't played any of the tracks on the record. For some reason it's been picked up by the daytime rather than evening DJs, by Gary Davies and Bruno Brookes. But I don't mind, it's good for us and it's good for Radio One.
"The idea of re-working a song and throwing in new samples and little points of reference to show that it's from the same source really appeals to me. It's something which I want explore further. I don't like the idea of simply strecthing a song out and not bothering to do something different with it for the 12-inch, nor of slapping on loads of other songs. That seems like an easy way out."
The inherent experimentation and the sense of destruction, the sudden spurts of noise and the unavoidable flak of "Info Freako" are part and parcel of Jesus Jones live. The band recently completed their first national tour - "a chance for us to pretend to be Bon Jovi on the tour bus, something which certain members achieved rather too successfully".
Onstage, Jesus indulges in hilarious rock histrionics, leaping into the air, dropping onto one knee, spinning his guitar, rubbing it up against microphone stands. It's an absurd sight which verges on the slapstick.
"And why not? The point is that there's something essentially very silly about the idea of performing.
Most of the great performers seem to have a blindness, an ability to not see just how stupid they are. I find that kind of subjectivity very interesting.
"I'm forever tripping over instrument leads, falling into the drumkit and the sampler, breaking strings and cutting my hand on the guitar, but that's fine. Live, we're 35 minutes of perpetual motion edging towards total disintigration. We work on the principle that things are bound to go wrong and that's all part of the fun. I see us as a black parody rock'n'roll band, taking the idea of 'Spinal Tap' several strides further and being far more subtle about it as the same time."
Do you have any desire to be taken seriously?
"I don't actually care one way or the other. Maybe I'm being completely naive, but I believe that even if I'm often guilty of being unduly flippant on stage and even if some of the things I say amay appear to be glib, they're counteracted by the fact that Jesus Jones are musically and lyrically bloody unpleasant. One or two of the lines in 'Info Freako' are quite nasty, as is the theme of the song.
"An info freako is a person who uses knowledge to rise above and assert their will over others. It's somebody who wants to be thought of as better than anyone else, oneupmanship through the manic gathering of information. It's the same sort of paranoia which drives a lot of hip hop artists to put their rivals down, even if they have to resort to saying things like 'I've got the biggest willy in the world'.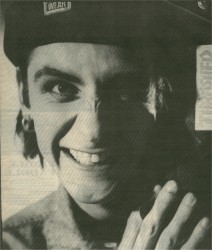 "I tend to write about the more negative and darker apsects of people, simply because I find it easier to explore that side of human nature. 'Broken Bones', the B-side of the 7-inch, is another pretty unsavoury song. Subconsciously, there's probably a lot of me in all of the songs. I don't know, I've never really investigated myself that closely for fear of what I might find."
What's so frightening? What do you think you would unearth?
"That I'm really quite a repulsive person and it's only social niceties holding that unpleasant side in check. My on-stage persona is something of a distillation, a purer form of myself, and once I'm up there I've noticed that I become far more cocky. This is awful - I don't want to come across sounding full of self-hatred, like I'm Julian Cope. I'm not like that at all."
Arrogance is, of course, a perfectly acceptable, perhaps even laudable characteristic. Jesus Jones realises this. He's eager to stress that the band is his baby, the lyrics, the music, even the selection of samples, are entirely his work. He refers to the other members as a "highly trained staff of interpreters", then, in the next breath, dismisses them as "morons". It's all something of a joke and one which he's keen to take several steps further.
Because of their instinctive irreverance, the appearance of Jesus Jones in the national chart has more than a little significance. Pop music has long needed a boot up the backside - that should go without saying - and, in recent years, the handful of successful and yet supposedly credible artists signed to major record companies have been responsible for miserable rantings which have, in many ways, conformed and appeared as redundant as the latest Stock-Aitken-Waterman monster. The only other candidates likely to have captured the imagination of the wider public have been third rate pop stars lacking the ability to climb beyond the indie chart.
"I don't want us to be purely an indie band - I'm far too ambitious to be satisfied with that - and I'd make a far better pop star than most. As far as the Jones's go, it's us or Howard and you and I both know that there's no competition. Howie should bow out gracefully, withdraw his single and let the jazzy Jesus boys in there. There are just so many crap pop stars around."
What do you think makes you such a potentially great pop personality?
"I believe in what I'm doing. The likes of Jason Donovan don't, you can tell. So many of them are doing it for entirely the wrong reasons.&
And what are your reasons for wanting to be a pop star?
"It's a compulsion, it's something which I feel I have to do, in the same way that I have to sing in an aggressive, gravelly way and every so often I simply have to skate. There's no option. I'm on a mission from God.&
Ah-ha! That's the one we've been waiting for and it's a good excuse to ask a predictable question. Do you hold any religious convictions?
"Hmmm. Since starting the band I've thought about this one more than ever before. Within the band there are some opinions that religion is quite a bad thing, but I personally woudn't go along with that. If anything. I'm warming to the idea of becoming religious. I think that it has some very positive things about it and it certainly does a lot of people a lot of good, as does any sort of faith, any belief in a set of human values.
"But I tend to go along with that Shakespeare quote, 'Unto thyself be true' - probably a misquote, as I am want to do. Most people have an instinct or something which makes them know what is right or wrong for themselves. Like, although I said before that I was deep-down probably quite a nasty person, I know that I could never rape or murder anybody because I'd have this very gut level reaction. It's the same for your treament of other people on a day-to-day basis - you know when you're trying to keep your conscience down. That's a personal faith and it's one which I hold dear.
"I think that it's the interpretation of religious dogma, when people bend a set of values to fit into their own framework, which is potentially dangerous. Anybody who's supposedly a religious authority and who can incite murder is about as far away from my admiration as you can get. The whole Salman Rushdie business is quite unbelievable. I read a newspaper editorial which described Khomeini as being a medieval bigot and there's some truth in that. I may be treading on dangerous ground here, but the whole episode doesn't say much for the interpretation of religion and that is equally applicable to Christianity.&
Jesus Jones are a band of holy and joyous musical conflicts, taking on board a wide variety of influences and ideas and hammering them together into a single solid unit. Even so, it's often difficult to sort out the most important aspects of their work. This may seem like asking for a "loaves and fishes" job in reverse, but what 10 words would Jesus use to summarise the band?
"Ten words? Okay! Loud, nasty, er, one shining light. Shit. No, don't count that. What else did I say about skateboarding? I drew a lot of parallels between skating and the music which I make. Oh yeah, fast, um, aggressive, violent, noisy and, naturally, irreverant. How'd I do?&
Excluding the ums and ahs and the thinking out loud, a dozen words. A little more than was asked for.
Naturally.
Questionnaire by Mike - NME - 8th April 1989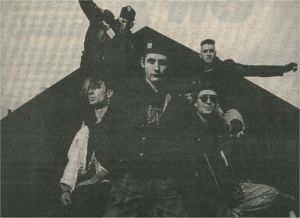 FAVE COMPOSERS
Todd Terry, Joe Smooth
FILMS
Subway, Mad Max II, Catch 22, The Adventures of Baron Mucnhausen, Mr Jolly Lives Next Door
FAVOURITE SPECIAL EFFECTS
It's the sound effects I like not stomach churning visuals, loud bangs, chainsaws, things ripping
FAVOURITE BLONDE
Marilyn Monroe
THREE REASONS TO BELIEVE IN GOD
Skateboarding, geology, threat of 'a large and painful hickey' if I don't
THREE REASONS TO BELIEVE IN PEOPLE
I'm still looking for one
BOOKS
Catch 22 - Joseph Heller, Dead Babies - Martin Amis, dictionaries
HERO
Spike Milligan
FLAKE
A chocolate bar that crumbles in your hands... hahaha
FORMATIVE MEMORY
Hitting my brother on the head with a rock at about 200 yards. I was about 10. It was an incredible shot... never mind that it killed him
FAVE SEX AID
I don't share the national obsession with sex. It doesn't interest me in the slightest. I really can't muster the energy to answer your question. Talk about something else
SEXIEST THING I'VE EVER DONE
Nothing at all. I'm inherently unsexy
SCARIEST PERSON ON THE PLANET
Ayatollah Khomeini, because he has absolute power which, - as we all know - corrupts absolutely
PERSON MOST LIKELY TO AN ASSASSINATED
Sadly the Queen - dear old stick
CLASSIC BANDS
The Stones, The Beatles, Slade, T-Rex, The Sex Pistols, Sonic Youth, Public Enemy, Jesus Jones (hopefully)
TELPHONE NUMBERS I WOULD LIKE
The Big G (Mah main man upstairs), Isabelle Adjani
ME AT MY BEST
That short amount of time spent onstage
ME AT MY WORST
Ditto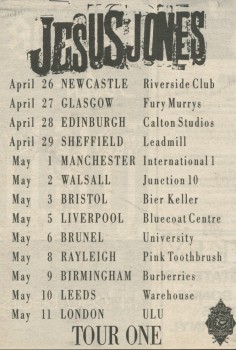 Review of gig at Sheffield Leadmill - Source Unknown - April 29th 1989
New tricks for guitars this surely ain't (partisans will beg to differ), but tonight Jesus Jones proved yet again that a severe attitude problem allied to wildly idiosyncratic playing can make for exhilirating, if not some of the best, music currently on offer. It's not hard to hear why.
Occasional lapses into formless noise aside, this really is one hell of an untamed sound. Guitars that mock the more traditional dictates of pop and rock spew out a series of clipped, brittle melodies at speed. Steeled rhythms and truncated hip hop beats ride roughshod everywhere. And waves of demented feedback merely add to the crushing, claustrophobic feel of it all.
'Info Freako' remains their best moment, fragments of bastardised melody shot out all over the place as numbing backbeats churn and pulse and the band start to get seriously delirious. It also provides the clearest insight into how Jesus Jones appropriate rock's past and rejuvenate if for their own manic, obsessive purposes - snatches of this and that crammed through the Magimix until you can barely recognise them and this mad, bruising noise is spat out. Sounds easy but how many do it as well as this lot?
Not that it always works. There are occasions when you sense them speeding to needless extremes and actually losing control, the quest for the unorthodox robbing songs of even the rudiments of shape or structure. But in the main, the wayward logic which informs this stuff makes for exciting music and Jesus Jones' brazen delivery is a joy to watch.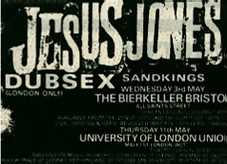 Review of gig at London ULU - NME - 11th May 1989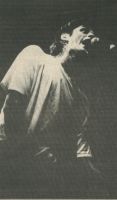 Jesus Jones frolic in the future , hitting the end of their debut headline trail with rapturous ease, even though singer Mike, uh sorry, Jesus H has left half his larynx in Leeds. It's one of those true ULU nights, not some crappy record company showcase, but a genuine indication of 'on-the-way-up' fever.
Already the kids are talking in sneeringly reverential tones of 'how I saw them at Hype', which is pretty remarkable when you consider just how short a time Jesus Jones have been glinting in the public eye.
Their dramatic appearance as a hot cookie on the music market stall still unnerves me, just as the entire designer ethic grates: if their athletic image is sickenly street cred, the fusion of raucous rock and brazenly hip techno tactics is surely computer-perfect, the band sucking like parasites on various musical lifeforms.
Yet the guitars infuse the confused genres with a startingly (s)punky energy, the samples chatter like frostbitten hyenas, and the visually bewildering melée of ducking and writhing figures completes a cartoon image.
Frankly, 'Info Freako' live urinates over its tinny vinyl version; 'Never Enough' pounds and surrounds, gleefully epitomising dance thrash rawk, or whatever it is they play; and 'Song Thirteen' has GOT to be the thoroughbred which carries them into the Top 40.
It's a ruthless performance, from a band with such a gargantuan spring in their collective step, they can't help but bang their heads on the ceiling. They don't just ooze confidence, they virtually drown in it. The future has arrived.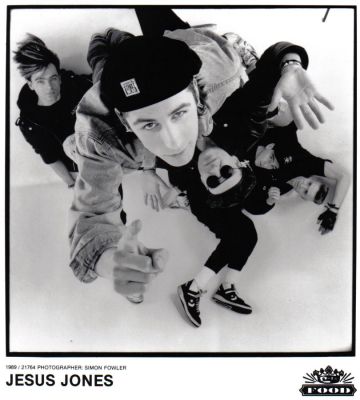 Review of gig at Edinburgh Calton Studios - Probably from NME - May 1989
At times like this you wish that the electric guitar had never been invented - indeed, that mankind had never crawled out of the sea in the first place.
Jesus Jones' cause was not helped by pulling off the support band Planet Pop after 20 minutes for "playing too long"!
Following in the hallowed but tiny footsteps of other great media darlings as Blue Rondo A La Turk, Baby Amphetamine and Vinny Jones, Jesus Jones are nothing more than well rehearsed hype.
We waited expectantly for the song that isn't 'Info Freako', but it never arrived. Like some bastard cross between PWEI and Then Jerico, they throw the right moves but little else. The drummer should be in Bros and the rest of them should be accountants. Jesus Jones make Wendy James look like Rosa Luxembourg and sex with Colin Moynihan appealing.
Of course they're not bad. With that much investment behind them they could never be bad, but without soul, substance or even style, Jesus Jones are blessed with mediocrity.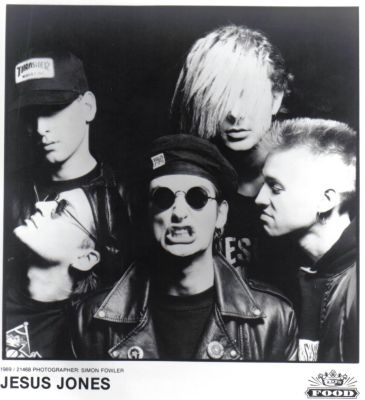 Review of Never Enough - Probably from Sounds- circa June 1989
Uppity white dance monster sequel from young Jones shock. Actually, the whole concept of Mr Jones - real name Clarke Slurryfield - is intrinsically dodgy on a platinum scale. But despite the sting of deception, they're lurks an attitude in keeping with the times.
Armed only with his wound-down four-track, a guitar, sampler and posse of suitably intransigent 'mates', Jones is this year's George Michael, a man so in tune with the moment that he occasionally threatens to overtake it alltogether.
The record is fast and furious, everything you could want from the cartoon B Boy, Master Of The Punyverse, and at a mere 3.38 it's nowhere near the right length. One play is simply never enough.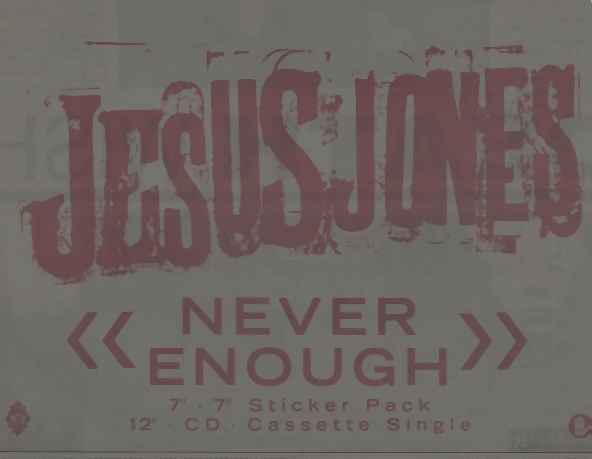 Review of Never Enough - Probably from Smash Hits- circa June 1989
They're getting better, albeit slowly. This song has a certain brazen structure, with vast guitar bellows and a Garage feel - primitive production, pneumonic vocals - suggesting that this band have a future.
Review of Never Enough - New Musical Express (NME) - 3rd June 1989
What I like most about Nigel from Jesus Jones' vocals is the way he goes "Gasp! Grunt!" and then follows up with a delightful little Home Counties whine at the end of each phrase. Shit but this is a great record. Nigel has his voice constantly at that razor edge between singing and screaming as he roars out another bitter and spiked lyric which sounds terribly impressive but is actually about nothing very much at all.
It doesn't scrape the clouds in the way 'Info Freako' did and one feels they're going to be living in the shadow of that masterpiece for a long time. Jesus Jones are the legendary synthesis between Beatlepop, early '80's gurly pop and godamn awful punk rock. Their use of hip-hop technology is unsurpassed. If Public Enemy worked with the young Phil Spector they might sound this good - but I doubt it.
'Never Enough' works at many levels but it's most immediate effect is to smack you between the eyes like a demented Buzzcock. Imagine a terminally sick-from-cynicism Pete Shelley personalising a Duranduran Greatest Hits LP with a Black & Decker power hammer. Groovy.
Interview - Sounds - July 1st 1989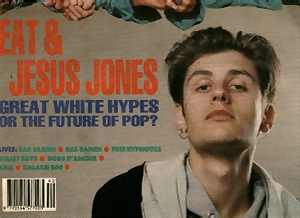 Here comes the noise!
A metal hurricane made up of layer upon layer of mutoid guitar riffs, deranged hip hop beats, snarling vocals - all driven by a blatant disregard for convention.
This is a noise you could drown in, the sound of the holocaust exploding from your speakers.
It fills every molecule of space with uncontrollable energy and zap your brain irreparably.
The question is, Can you dig it? And the answer is, Yes. In fact, you have already - in the shape of Jesus Jones' highly volatile 'Info Freako', the most outstanding and original debut of the year.
It burst into the Top 50 like a radioactive satellite into a stagnant ocean, taking everyone by surprise and combining nihilistic punk attitude with the dance vitality of hip hop in an innovative pop groove that overloaded the body with static.
It was chaos '89 style and it was extreme enough to swell Jesus Jones' gigs from unpopulated nights in small clubs to sell-outs at the University Of London within two months.
At Townhouse Studios, in London, Jesus sits behind a production desk with his black beret fixed firmly on his head, looking like a terrorist.
His suspicious appearance has already caused problems. He was once mistaken for a Guardian Angel on the London Underground and followed home.
And, while on tour in Leeds, a childish game of water pistols in a hotel lobby brought the town centre to a standstill when a passing squaddie mistook the pistols for real guns and reported it to the police. They staked out the hotel for an hour before moving in and seizing Jesus as he walked out of an elevator.
But, talking thoughtfully about Jesus Jones, the man is actually very mild-mannered.
They are in the studio laying down tracks for their debut album - planned for September - with Craig Leon, who has produced Blondie, The Ramones and The Primitives in the past.
Was he surprised by the success of 'Info Freako'?
"No", he says with a touch of self-belief that could be mistaken as arrogance. "It seemed like a long time for us but when it went into the charts at number 50, I thought, Wooh."
But after a few days I thought, Yeah, this should be here, it's a great single and, Yes, it is better than records placed higher in the charts."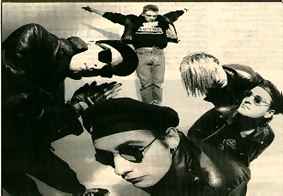 Part of 'Info Freako''s success lies with its ability to prise open the usually conservative Radio 1 daytime airwaves. This is where having the support of EMI (via Food) rather than Rough Trade becomes more than useful.
"I'm under no illusions about the benefits of being signed to EMI can have and, after all the good reviews, EMI made it their priority single - so it meant they pushed the single harder than any other single."
Critics are already speculating that Jesus Jones may find it hard to live up to 'Info Freako'. But the new single, 'Never Enough', should blow all these doubters away.
It's a more traditional rock record than 'Info Freako' but it still speeds a long at 100 mph. Ramones-like riffs slice through Jesus' growling sneer, which sounds like John Lennon being eaten by John Lydon.
There's a delicious pop hookline working away underneath a spiteful chorus of "So you wanna be happy", and it should throw blank minds into disarray.
"The whole point of 'Never Enough' was to release something that was completely different from 'Info Freako' so that there could be very little comparison between the two.
"It reflects all the stuff I listen to. There's nothing unusual about me but I do think a lot of bands sat to themselves, this will be our overriding theme and we will go for one goal, which is exactly what I have tried to avoid."
Why do you think so few rock bands are willing to take notice if hip hop's influence? There seems to be an almost Luddite refusal to accept sequencers.
"You'll find that they will occasionally dally with it and I find that quite offensive. I was talking with The Wonder Stuff's drummer and he was extremely against any form of technology altogether."
He hates it all and yet, on their album, you'll find a song with a very strong hip hop feel to it."
"But it is all dalliance. Ciccone Youth are another example, where they seemed to be drawing attention to themselves just because they were using hip hop - but they didn't think, let's try and do something with this...it was all treated like a joke."
"At the same time, we've never had this thing where we went around saying, We are wonderful, we use technology - that's bollocks."
Are you obsessive?
"Oh yeah. Totally, that probably reflects in a lot of songs, especially 'Broken Bones'. In the past, it has led me off in some very bad directions. Once I stopped being so obsessive, I became a lot more open to new ideas."
Part of Jesus Jones' charm is that they manage to capture that moment before everything implodes.
They seem to hover on the edge of total destruction but, at the same time, their sound traces back the history of rock and pop.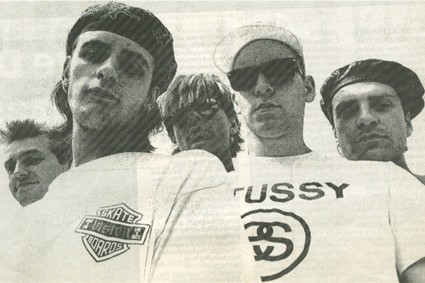 The remixed B-side version of 'Never Enough' is absolutely AWOL - a complete wipeout that is as raw as any contemporary sonic experiment.
The songs themselves deal with the darker side of the human psyche - Jesus occasionally sounds like a schizo.
"I think most people are interested in that, and I think it's easier to be original with negative themes. I watched Stardust Memories last night, the Woody Allen film, because that's what inspired 'Never Enough', and the whole point of the film is that mankind cannot be content because you're constantly putting up new obstacles."
"No matter how much you achieve, or how content you are, there will always be something else."
"In my opinion mankind was never meant to be happy. You just can't do it and, to me, it's important that you face up to the realism of the world."
Jesus Jones are in keeping with the madness of the modern world. They reflect the speed at which we live and are first for a wide-ranging draught of culture.
This reveals itself in their short live sets but, unlike most of todays careerists, they show a healthy disdain for the codes of competitive thinking.
They have also been allowed into the system and are attacking it from within - unlike Pussy Galore or Sonic Youth who remain worthy but almost token distractions rather than genuine alternatives.
Which begs the question - are Jesus Jones a subversive act?
"Realistically, no. That bugs me. I feel duty bound to change that - there are some things that I feel I should say that would make us more than a standard pop package. At the same time, I don't won't to end up like Simple Minds."
"Anything The Clash did at the end of the '70s, well, that's dead and buried. But I'm sure there are still ways of saying something without boring people by ramming messages down their throats."
"Musically, I can't really give you an answer to that one because, as soon as you think, Hey, this is being subversive, then you're finished. Because if you do something for the sake of being subversive, you'll fail because people will see through it."
"The last subversive age was punk, that's why I think Lydon left - you know, when the Pistols started courting controversy for the sake of it."
At the moment, it looks like Jesus Jones are the closest pop music has come to being subversive again.
A large smile sweps across Jesus' face.
"We'll see, we'll see. I intend to take it further, if I can. All I can do is take from the people around me. I don't think our records are subversive at all because I put them alongside Big Black and I think, I've still got a long way to go."
Interview by Steven Wells - NME - July 1st 1989
There is a sound where pop meets chaos and rides its fury and when I heard it I fall in love...
The first time was Paul McCartney, his carcass jerking on some sick speed, screaming himself senseless on 'Helter Skelter'; the second ' Holiday In Cambodia'; the third Beatles 'Live At The Hollywood Bowl' where pure gurly pop is pierced through with a million screams so shrill that you smell the stink of urine, lust and madness; the fourth the Jesus And Mary Chain's 'Upside Down' and subsequently 'Kill Surf City' and 'Surfin' USA'; the fifth discovering Public Enemy; the sixth was 'Info Psycho/Freako' by Jesus Jones. Where pop meets hysteria, froths at the mouth and frays at edges but never breaks into sweat. Imagine a Cuban heeled boot stamping on a fuzzbox pedal forever. A frenzy of control.
"'Info Freako' was the runt of the litter," says Jones. "It won't even be on the album."
A guitar clangs like a dustbin lid booted down an alleyway. A bass hums, a drum machine kickstarts. A bruised and throttled voice hoarsely screams about happiness and we've hit on an '80s wall of sound. As I type this the new JJ swingle hammers out again and again from the cheap and cranked up record player and I feel like I've taken drugs I don't dare take anymore.
It's the best start any record has ever had this side of Chuck Berry or 'Revolution'. 'Never Enough' sounds like Public Enemy, The Buzzcocks, Duran Duran but most urgently is sounds like prime-Beatles. Whilst Transvision Vamp squeeze the last juicy drops from the slaughtered white cow of pure (white '60s) pop and roll, Jesus Jones, under the fake and flimsy guise of a reckless indie Noisekombo, are shaping up into the hard core pop (multi-racial '80s) act.
"People have massive expectations of us. Craig Leon the producer has brought in this Yazz record so we got a rough approximation of what a club record sounds like - 'The Only Way Is Up'. I love the idea of pop music like that - all the hardness in the feel that great club records have. It's a great record. It has all the best things about Acid, it's exciting and it made me want to leap around the studio, up that stairs and onto the roof.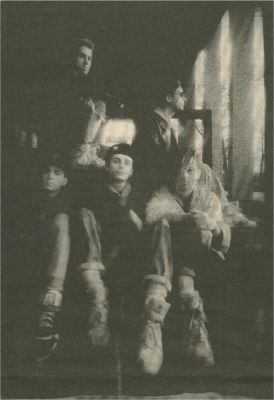 "You get these people who come up to you at gigs and say how great you are and you think these people are going to be just as interested in Todd Terry and Public Enemy as I am, y'know? But they're not, they're interested in white indie pop. Dinosaur Jr, The Wonder Stuff and us. We seem to have been stuck in some awful indie ghetto..."
So Jesus Jones aka Mike aka Norville Normington (Time Out) lopes in looking like Wolfie Smith and Baden Powell and acting like the ever so polite, arrogant middle class bastard he is. Woul I like a cup of tea? Delighted, where's the toilet? He waves in the general direction of the recording studio. Within minutes I am lost so I ask this beardo - Excuse me, where's the bogs? The beardo just stares. Hmm, he looks a bit familiar... Perhaps he is deaf? EXCUSE ME, WHERE'S THE BOGS? The beardo looks away, panicking, pressing himself into the wall, closing his eyes, pushing himself away from me. Gasping slightly, he breaks into a cringing trot and is gone.
"Do you know we've got Eric Clapton recording next door?" asks Jeese.
I wonder...
Recently the gangly Jesser pushed George Harrison out of the way at a Skate fest (phwooooar! punk rock! gaaaarn! Spit! etc) where the Beatle had paid a couple of US skate-stunters £10,000 to appear at his son's birthday party. He didn't stop for a chat either.
"There's nothing I could say to these people. I could say - I saw you in that video with Tom Petty and you were completely crap - or - why haven't you made any decent music in the last 20 years you wanker?"
We're hiding from a blistering ozone sun in the studio games room where Pete Gabrial got the inspiration for the dreadful song 'Game Without Frontiers' (while watching some Germans play table football). Jesus, being a polite boy and not speaking until he is spoken to, has not gone up to Mr Clatpon and slapped him on the back.
"Eric is scared, he's really scared. I've always thought Eric Clapton was crap."
At school Jesus Jones freaked out would-be bullies by acting mad and he was never hit by his teachers. He has eight O levels, the swotty little get. He slagged off Pop Will Eat Itself and was ashamed when he met them to find that they were rather nice. The only time he's seen a real gun was during the "water pistol incident" in Leeds where JJ's aquatic pranks led the city centre being sealed off by gun-toting bacon.
"You see this?" grunted a real policemen, the sweat dripping from his trembling upper lip. He lifted his tunic like a stripper hiking her skirts and pionted to his little holster. "This is what a real gun looks like..." He started to stroke the two inch barrell, fixing Jesus with mad staring eyes and moaning softly...
Jesus Jones, you fake, bland would-be pop star. Have you ever thought about killing someone? Have you ever been that disgusted? Do you ever scream with anger? This pool cue; is there anybody whose head you'd like to ram it through?
"Killing people? Someone really pissed me off the other day. Who was it? Eric Clapton's road manager! Really pissed me off! Accused me of stealing his food. He's one of those people. He walks past me going - BASTARD! steal my BLOODY food! But he wouldn't say it to my face. I only had half a mushroom out of this bloody great bowl of salad..."
Blimey" So no Clapton guest spot axe-hemmering on the new album?
"No, no certainly not! There's nothing he could do I couldn't do better. He's crap. Really boring. I'm a loads better player."
It is the brutal function of pop journalism (at its best) to ring in the new and kick shit out of the old. Thus you oil the industry that pays the wags but maybe also sow a few seeds about the idea that nothing ever need stay the same. There's too much bloody backsliding an backslpping and too little backstabbing on both sides of the typewriter. Van Morrison, The Stones, Dylan. Why is everyone in such a rush to be MIDDLE AGED? And you - you in the stupid skate beret. Why is that everybody I meet thinks you're a completely arrogant f___head?
"Beacuse deep down I am."
Dave Balfe of Food Records thinks Jessy is a megalomaniac.
"Anyone leading a band this good has to be a megalomaniac."
When he talks of Jesus Jones, Balfe spitdribbles in excitement.
"They call him Cuckoospitlips"
How's it spelt again?
D.I.S.R.E.S.P.E.C.T. Jesus Jones bugs the bleating bollocks out of everybody he meets because he is a smug, cocky Home Counties ninny. A pain in the arse reminding you of one of the great unused film titles of the '60s - More Tea Vicar - You Bastard. Starring Malcolm McDowell and Hwyel Bennett, ending in a sten and bren-gun bloodbath at a gothic public school. If Jesus Jones were a film they would be If a frantic, English, crazy, disturbed, stylishly violent, adolescent, male, rebel wank fantasy, saying nothing but looking like a celluloid orgasm.
Are you a pop band? "Yeah.." Like Transvision Vamp? "No, not like Transvision Vamp! No I think they're awful. Like they've read the formula book on how to get a hit single which is OK as long as you don't say at the same time 'we're in the same tradition as The Clash and blah blah blah and Ladbroke Grove'... That 'Sound Of The Westway' kind of crap. The 'Wendy James seriously into skateboarding' crap. I can just see Wendy James pulling off a 50/50 Gripe Meanwheel!"
What about '80s pop? Spandau Ballet, ABC, Human League?
"I loathe it because it was all so polished and pretty. It meant nothing to me all that poncing around in stupid clothes..."
You're there in purple, blue and yellow shorts, a thrasher T-shirt and a Vision Street Wear skate beret (currently being nicked by U2) and you're accusing Spandau Ballet of dressing up silly? Do you like Bono now he's stolen your image?
"I would hate to end up like U2, being that bombastic. They have this search for roots in music which somehow seems to take them further away than ever. Yeah rootsy! A nightmare..."
Do you think you're better looking than Jason Donovan?
"Most people are."
Band Photos, first date of the Never Enough Tour (click for large versions) - Zap Club, Brighton - July 1989 (Many thanks to Penny Wood for supplying these photos. Penny was photographing for a Brighton fanzine called SPASM with writer and editor, Tish Ferry)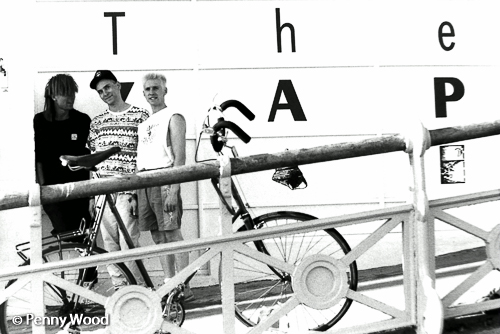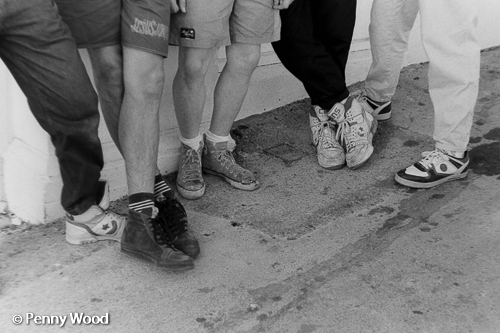 Preview of Reading Festival - NME - circa August 1989
Heavy concept....all the post-grebo nerds hit the stage today, apart from Gaye Bykers. But you can bet your bottom Euro-Franc that Mary is getting pissed backstage. The Jones are having surprising difficulty in following their surprise debut smash. Still, frontman Jesus, back after a 2,000 year lay-off, should be ready to slay 'em.

Review of Bring It On Down - Probably from Sounds - circa September 1989
There's a lot of this Jesus fellow about, and these must be the reserves. For despite being buried underneath 15 free copies of the record it still sounds unconvincing.
They might have grazed the anus of the chart with their far superior debut 'Info Freako', but the post grebo tricyle is already spinning off down the road. After just three singles they're now formulae Jesus, and that's not too groovy.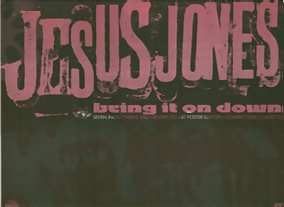 Interview - Sounds - circa September 1989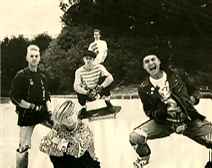 "Nice one Jesus!" cries someone as Jesus Jones nonchalantly extends his Axle Grind into a pile of discarded clothing, sending skate paraphernalia flying in all directions.
Down beneath the Westway, the hideous concrete artery that connects West London with the rest of the Capital, Jesus Jones, new pop messiah, is showing off his skating technique. It's what he does best - showing off, that is.
Watch as Jesus demonstrates the complex vocabulary of the skating world, transforming Ollies into Lip Slides ad he goes from near vertical to airborne in his Vision Skatewear beret.
After half an hour, a long car journey in drummer Gen's ex-US cop car (sister of the JAMMs' Ford Timelord) and a further hour at the kiddies' swimming pool it strikes me that Jones has something of skating hang-up.
"It gets really niggly when people say we can't skate," says Jones, his voice like an index finger poking you repeatedly in the eye.
"We had this one guy at a gig in Brighton, this real turkey in a Vision Streetwear top, who stood at the front and scowled and in the breaks he'd just say, None of you can skate."
"That was really boring because we'd been skating around the seafront for most of the day. That's what we're going on tour for - its not to play gigs, it's to go skating. Every town we're going to has somewhere to skate, except Stoke. That's our mission, to find places that no man has skated before."
So Jesus Jones, noiseboy extraordinaire, can skate, but so what? Can he make music too? Is he capable of being the '90s first real noisepop monarch?
His first records speak for themselves. His two singles, 'Info Freako' and 'Never Enough', were both fine pieces of samplepop mayhem - the former a work of blatant genius. Both leapt into the charts, propelled by a modest amount of Radio 1 airplay, only to hit the 42 spot and drop, disenchanted by the rigours of chart fame.
He's also (apparently) been number one in Hong Kong, well-charted in Italy, nicely positioned in Spain and has 'arrived' in Norway. Jones it seems is doing alright for himself.
Compared to this year's Sounds faces Jones is comfortably well off. Of them all - Eat, The Stone Roses, Spacemen 3, Birdland, The House Of Love, Inspiral Carpets, The Almighty, Mudhoney, Thee Hypnotics (to name but a few) - perhaps only The Sundays have done less to get where they are today.
As he keeps reminding me, Jesus Jones are the only band to play the Reading Festival this year without having released even a debut LP. And with the third single, 'Bring It On Down', clawing its way into the charts with no airplay at all, it's hard to remember that back in February no one had even heard of Jesus Jones.
The Jones boy himself is a picture of conceit. Tired of skating, we've moved into his local café in Willesden, a north west London suburb principally known for being slightly less stylish than Harlesden. Jones is sitting by the window being in turn arrogant, scathing, rude, irritating, insulting and funny. It's a combination that confirms your worst fears - he's either totally conceited (a bastard) or terminally cool (a real bastard).
In keeping with his persona, Jones' conversation is self-obsessed. It's peppered with I's and me's to such an extent that you can't help wondering whether perhaps the name Mike Edwards (this week's alter ego) is in fact the alias. An ego this scale could only call itself Jesus.
Do you feel hard done by?
"Yeah," declares Jesus with touching modesty. "I feel that we've been lumped in with a certain area of music with which we're got nothing in common and I also think we've done things that most bands won't do in their entire lives."
"I think it was a major achievement for a band to make a record for £120 and come close to the charts ('Info Freako'). I'm proud of that. OK, EMI distributed it, but we got where we did because people like it."
"Of all the bands I've seen recently on the covers of music papers we're far more important, we've got more ideas than practically any of them."
The idea, the Jesus concept, is an easy one to grasp. It's a fusion of styles, sounds, bands, skills and technology with one aim in mind, to push music forward.
Jones is absolutely certain of this. The number of times he used the phrases "move music forward" and "push music forward", you'd think he had shares in the haulage company. But he's just responsible for trying to give music, and pop music in particular, a good savage kicking.
"The idea didn't so much form as evolve. There was a definite turning point on this holiday in Spain when Gen (drummer), Jerry (guitar and vocals) and I, who had been playing in bands and wondering why they hadn't worked, decided to do everything we had to do to be a really good band. It was also the time when I started taking control."
"The decision to do what we did was taken on a beach in Spain and we got back and it was like, Wake up next morning and start. It was like one of those amazing periods of life where everything becomes crystal clear, I've since had moments when it's become totally cloudy again, but it's clearing up now."
The idea, as Jones so casually puts it, is musical liquidisation. It's the JAMMs, MARRS, Sonic Youth, Loop, Big Black, The Young Gods and public Enemy put through Jones' evil, twisted mind and butt-f***ed forward into the '90s. It's the natural extension of the mid-'80s sample piracy ideal.
But Jesus Jones add a total pop sensibility to the proceedings, transforming what might otherwise be limited in its appeal into an infectious three minute noise burst. The first single, 'Info Freako', is the best example.
"That was inspired by, if I remember correctly, Sonic Youth - that bridge section with all the wah wah guitars - and Public Enemy - those really funny high-pitched noises. Public Enemy are brilliant because of the way that they can take the most abrasive sounds and make them work in a way that adds to the rhythm and makes the whole track exciting."
"When I first heard that I thought that this sampling thing could actually be good. Because if you can do that, if you can take any noise you lie and make it something that's exciting as Jimi Hendrix, it's got to be a good thing."
On the latest single, 'Bring It On down', he manipulates the sound of a chainsaw to create the initial, fuzzbuzzed riff. But why has it taken so long for someone to do this? Why aren't there 1,000 rampant Jesus Joneses ripping up our musical heritage?
"Because no one else has the imagination to do it," declares Jones modestly. "Most people are still too concerned about showing off their record collection. It's a way of making people feel safe with what they know, so that if they hear a Shaft guitar they know it and they'll feel comfortable with that than with some weirdo playing a chainsaw. It's far more difficult to use samples which aren't easily recognisable."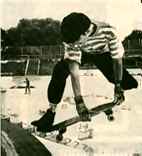 "But to me it was far more interesting to take a chainsaw and play a melody with it than to rip off Sex Pistols' jackboots stomping (also in 'Bring it On Down'). That's what sampling should be about, not letting people hear what they already know."
"I think the key is to have an inquisitive mind. What happens if I do this? What happens if I have a chainsaw play a melody? Can I make a chainsaw do that? The whole idea is ludicrous and it appeals to me because of that. It's stupid, but what if it works? Wouldn't it be brilliant to have a chainsaw playing lead guitar?"
"It's like my idea of a great band isn't one that mixes The Byrds with The Rolling Stones. That's not a bad band, but it's not taking rock music anywhere new and I'd really like to do that. I think that as a band we're extremely ambitious. We really want to move rock music somewhere in a way that very few other people do."
With their debut album, 'Liquidizer', the Jones boys have finally arrived, making the uneasy transition from pop ephemera to rock band permanency in one easy move. Its 12 tracks roar with a perfect pop pulsebeat, yet they're the product of a rock environment. Unlike other sample merchants (Mick Jones' BAD springs to mind) they sound even more electrifying live than on vinyl.
Yet it's a flawed album, rarely finding the perfect moments he's previously achieved. Indeed, despite Jones' best efforts, only two songs really stand out as '90s classics, one of which is the ubiquitous 'Info Freako'.
It's somehow inevitable that Jones will be dogged by his greatest triumph (so far). Reviews of his subsequent singles have all hinted at some calculating formula, implying that each of the records is somehow 'Info Freako' II or (III). Do you feel a compulsion to keep repeating it?
"The strange thing is that I don't see 'Info Freako' as being that interesting or bold at all. It was always the one song in the set that we couldn't play properly, so I was never that impressed by it. In fact it was Jerry who pressed for it to be on the demo, thank God, otherwise we'd never have got a record deal."
"But really, we released 'Never Enough' because it had nothing to do with 'Info Freako' - it had nothing to do with dance at all, it was a straight rock-pop song."
The other crucial song on 'Liquidizer' is 'Song 13'. It's a surefire hit that blends Public Enemy's synthy wail with Jones' furious voice and total ego, and which, when released as a single will finally break the band. A song of lust, obsession and downright desperation, it's the most Jones-like song on the LP.
"That was written at a time when I was being miserable a lot and I was very unpleasant to Jerry. I have this really strange, very repulsive streak to my character and that ('Song 13') was that streak coming out. It was just the desperation involved, being obsessed by something that wasn't there."
"I became really obsessed with the idea of having a girlfriend, because I was convinced it would put be on the straight and narrow. Also there was an idea that when you are desperate, everything else warps around that desperation your perception alters and you get some weird, unpleasant and evil logic working instead."
"And that one time I was also thinking about the Hungerford killings and those other ones that crop up occasionally, where people become so obsessed that it becomes entirely logical to blow people away by the truckload."
Jones' determination roars through in his music. It's a drive that sets him aside from the other faces at the moment. And while adorable Manc bastards The Stone Roses bomb us back into the psychedelic timelock of the '60s, Eat look increasingly like Captain Beefheart On 45 and The Young Gods are getting nowhere irrespective of their genius, this drive forces us to recognise Jones' true potential.
Jesus Jones will succeed simply because Jones wants to be massive, he wants to be famous, he refuses to remain stationary and because, for his sins, he actually deserves it.
"We reflect what's going on now," he declares in triumph. "We're not the sort of band who are trying to cover a wide area at the moment. We have one idea, one central idea, which is the mixing of these things, the samples and rock bands. And it's a very good idea and with the album we've done it very well. The album is our testament to that and now we'll move on."
Bring It On Down review - NME (but done by Miles Hunt and Martin Gilkes of The Wonder Stuff) - circa September 1989
Miles: After XTC, this is the best thing we've heard. At least it's got some energy to it. I heard this at Reading and thought it was shit so I was expecting a good laugh... but they've made a really good job of it.
Martin: Jesus Jones are a great idea. They prove that you can marry dance music with a rock band and make good stuff. As long as they stick as a band they'll be alright. The danger is that Michael's going to become a megalomaniac and want to do everything himself. It's getting that way now.
NME: I couldn't share their enthusiasm. 'Info Freako' was a fine record but they can't go on releasing it under different names. We're too smart for that. About as entertaining as a migraine, in parts.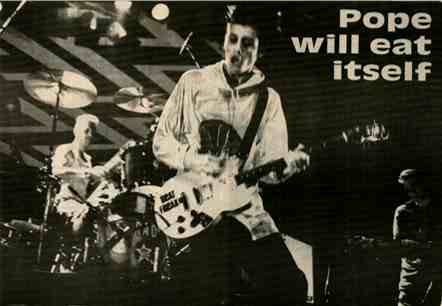 Gig review - NME - Charing Cross Road, Astoria September 20th 1989

The curtain rises and a large crowd screams its approval as Jesus Jones slam into a set that riles as it invigorates, and annoys as it amuses.
Let's face it, this group is baffling. 'Bring It On Down' rocks hard, the guitars are upfront and the whole package shouts: punk it up! Similarly, Barry D's spaced-out keyboard antics - flapping around like a tripping turkey - suggest, at the least, a few too many late nights.
The music is loud, aggressive, brash and rowdy. But it isn't dirty. Jesus Jones play join-the-dots rock 'n' roll. Sure, they play tough, but they're too slick to fully convince and they end up somewhere between a clean-cut Clash and a thuggish Bros.
Hi-tech yobs, bad-ass pop stars, the potential is there for some much needed daytime radio pollution. Their songs can be magnificent, even blistering, but Jesus H Jones' pristine white boots are still too wholesome for comfort.
Review of Liquidizer - Roger Morton, NME - September 30th 1989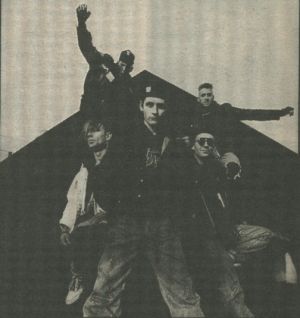 Here's Jonesy! Not since the days of puke rock when folks could still be made to choke on their tea by sheer maniac noise has there been such a blatant attention-grabber of an arrogant pop record.
Jones is the Jehovah's Witness of raging apopleptic fusenik pop with a door-to-door technique like Jack Nicholson in The Shining. While others concern themselves with the niceties of compatible beats and bar-chords and acceptable restylings of the past Jones just goes for it like a hormone crazed weight lifter in a hi-fi shop.
In the grip of the zippy rancour of 'Liquidizer' the Poppies sound like dinosaurs, the Mondays like shamblers and BAD like studio technicians. It gives the impression that the Joneses just skated in there, Steve Jones produced by Jim Jones guitars at the ready, kick started the sequencers and let out a howl.
The Messaiah Engines make their intentions pretty clear from the start. The dancefloor swagger of 'Move Mountains' body jerks into life with a rolling house beat which gets 23 seconds of groove life before being depth charged out of the disco by huge, firm-a-mental guitars and the Noddy Holder hollering of young Mike himself.
From there on in it's a white-knuckled ride through electro infected hyper-tense speed pop, with ringing bells, sampler stabs and siren noises crowding in on the next climatic chorus.
There are moments where their precociousness gets the better of the them. 'Too Much To Learn' for instance is a psychedelic dub-grunge mess. And the tedious accusations that too many songs echo 'Info Freako' too closely, hold some truth for tracks like 'One For The Money' (not that over doing a good thing ever did T Rex, Slade or Sweet any harm).
But the strength of the three singles 'Info Freako', 'Never Enough' and 'Bring It On Down' plus the presence of deviations like the dread hip hop and harmonies of 'Song 13', The Cult meets The Beatles anthem 'All The Answers' and the acid grooved narky rock of 'Someone To Blame' means they cover quite enough ground for a first album.
In 'Liquidizers's snotty congress of white-boy jive pop angst and ripped off raving rhythms, that arrogance seems to have produced the best of instantly gratifying pop results - a churned up frothing pulp of spitfire rock, nimble dance, The Beasties and Sweet, Bugs Bunny and Dennis Potter.
It gives a whole new meaning to keeping up with the Joneses. (9)
Gig Review - Sharon O'Connell, Melody Maker - October 7th 1989
There's nothing remotely personal about this Jesus. These metal-mashing mesiahs have everybody's grubby fingerprints all over them, and tonight the stage is a mad, glorious confusion of splintered light and hurled limbs, of which dozens of dive bombers want to be a part.
And Jesus Jones' exuberance is dead attractive. Maybe they do have just one song, but when it's as roaringly brilliant as "Info Freako", why complain? There are plenty of others with as much brass - the savage damage that is "Bring It On Down", with vocalist Mike Edwards in nasal overdrive, the jauntily depressing "Desolation Girl", or the brand new "Someone To Blame", Jesus' own pick from the precocious new LP, "Liquidizer". And if that sounds rather like Arnold Schwarzenegger's latest adventure, so be it. This bunch flex just as much muscle.
As far as they're concerned, it's best to forget that word "sampling" immediately. With its implication of modest and judicious selection, it's too restrained by half to describe this greedy lot's approach. Jesus Jones goes in for wholesale pillage, showing all the restraint of Imelda Marcos in Harrod's shoe department. No polite picking and choosing here, but a slavering, unapologetic grabbing at everything in sight. And somehow, out of this bag of trash and treasure, they come up with something new.
It's rock in an acid (house) bath, stripped to the bone and forced back on its feet, screaming, a dumb-smart mix of jagged guitar with slabs of juddering keyboard and things found fused by FX-laden vocals and thrown around by five blokes with something other than angst in their collective pants.
Jesus Jones' "vision" may extend no further than the label on their groovy street wear, but then, who's after investment? If the moment can always be as gloriously unstoppable as this, it'll do. Wonderfully.
Review of Liquidizer - Sounds - October 30th 1989
The more I hear of Jesus Jones the more I see it as a jape you either twig immediately, or not at all. To be baffled by something that enthrals almost everybody else is not a comfortable feeling, so is it just me that has reservations?
Similarly, Jesus Jones have a peerless way with fusing samplers and loud guitars. They're fast, just the right side of offensive and commercial with it. Add to the raucous backcloth a squawling, snotty rebel vocal and you're looking at potentially one of the most exciting new pop developments since Thurston Moore discovered a second use for a drumstick.
This album, however, must go down as a failure in most respects. For one thing it's not helped by the inclusion of the ancient 'Info Freako' and the rumbustious but well-oiled 'Never Enough'. For another, seven of the remaining ten songs have attended the same beat clinic and are vitually interchangeable structures. It doesn't matter how nifty you are with a sampler and a drum machine if every damn song sounds the same.
Not every song, though, and here are three that save the album. 'Move Mountains', the opening declaration, is about as ruthless a reveille as you can get. The cockiness of the hook, "if it moves mountains, I want it", stands as a pretty decent synopsis of the entire JJ manifesto. Big guitars, big drums. I want, I get. No arguments.
After four blasts of deja vu on the same subject we get to 'Song 13', a slow tempo'd cousin of 'Helter Skelter' which comes on like a well-rehearsed body swerve. The samples sound furious, as apposed to coldy functional, and the guitars burn like I keep reading they're meant to.
'Too Much Too Learn' has a tinny acid keyboard riff, and it's a good one, but by track nine Mike Edwards' gutteral yelp is starting to irritate. Keep listening and you get used to it, but is getting used to it the idea? Surely not.
Jesus Jones make a great noise, no doubt about it, and beneath the hype there is real substance and undeniable inspiration. But this album, like many debuts before it, it's a lot more bluff than brilliance. I wish I could dance.
Review of Liquidizer - Source Unknown - circa October 1989
Jesus Jones might not write such crunchy songs as The Wonder Stuff's, but the band has a much better relationship with their machines. JJ are still a grungy rock band with thick and nasty distorted guitars, but they're not ashamed of using tape loops and repeated samples as part of the structure of their songs - all the time, and not just as an occasional novelty. They don't make a big fuss about this on record: the odd noises are there along with the drums, adding depth, but your attention is held by the tough melodic guitars and the almost Beatley close harmonising. It's true that there's no point in innovation for its own sake, but Jesus Jones have actually managed to push back the boundaries a few inches and still make an exciting and entertaining record.
Review of Liquidizer - Source Unknown - circa October 1989
The rise of this London-based band of independent rock experimentalists and techno-terrorists has been swift. Fusing Beatles drone vocals and harmonies with scratchy garage-guitar breaks and sampled hi-hop rhythms to forge a stuttering wall of anarchic modern sound, the five-piece had a hit earlier this year with Info Freako within only months of forming. Their debut LP offers 11 more examples of this pummelling-together of different musical styles, which though often effective individually, lack overall light and shade. Move Mountains is a storming opener, and the staccato rhythm of Someone To Blame is hypnotic, but more variety is definitely called for.
Photos - Al's Liquidizer Era Bass - Photos kindly supplied by Alan Foster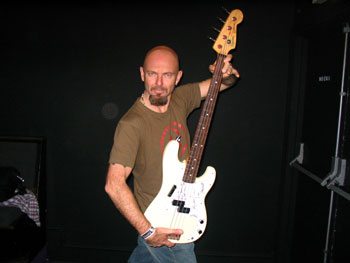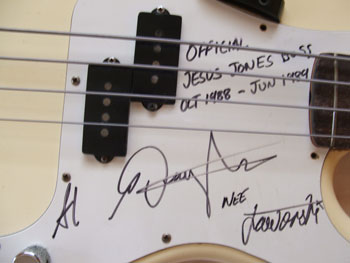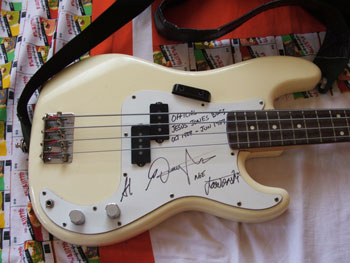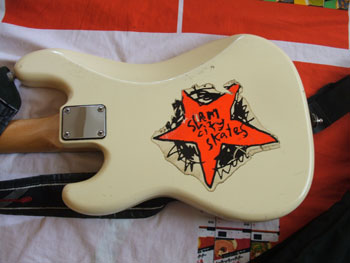 Review of Liquidizer - HMV Advert - circa October 1989
Is the world ready for Jesus Jones? Certainly Jesus Jones are more than ready to meet and greet their public as Liquidizer is a vertiable whisk of whit and wisdom capturing the carnage and techno mayhem of their singles 'Info Freako' and 'Never Enough' and then creaming those initial forays with ten other aural assault compositions that remind you why you bothered to like jumping up and down in the first place. This is pop at the razor edge of the '80s/'90s axis, irreverent, cacthy, confused and collected. Produced by garage mechanic Craig Leon, who knows more about that strange beast punk rock than is humanely possible or healthy, 'Liquidizer' is a brain curdling stew of madness and melody, like Sweet meet the Sex Pistols meet LA Project. You can definately dance to it. If you're ready ladies and gentlemen...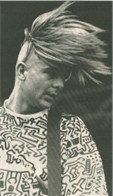 Review of Liquidizer - Kevin Murphy, Record Mirror - circa October 1989
So Horace and the boys have managed to stand still long enough to record their first LP, then?
These sacrilegious purveyors of pop mayhem hark back to the days when any record over three minutes was either classical or stuck, managing to squeeze 12 of their illegitimate offspring on to 'Liquidizer'.
Much of Jesus Jones' appeal lies in their animated and brash live performances. The acid-tongued wit and fetching beret of Mr. Jones doesn't quite come across on record...but their energy does.
All the songs still sound as though they've been dragged backwards kicking and screaming through a hawthorn hedge. At the heart of their arrogant sound is an incessant, driving rhythm, a shuffle beat that eats drum machines for breakfast. Everything else then tries to jump on board and hang on for dear life while Horace argues with the lyrics in a defiant scream.
When they get everything moving in the same direction, like on 'Info Freako', 'Never Enough' and 'What's Going On', they're mouth-wateringly brilliant, but the unrelenting pace sometimes drowns the album's less competent swimmers.
Catch 'em in their natural habitat if you can, but, saving that, this is a great way to keep up with the Joneses.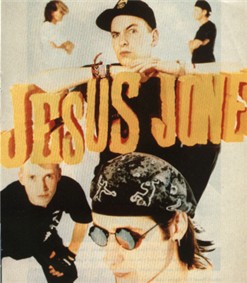 Review of Liquidizer - Reinhardt, Spin Magazine - circa October 1989
Jesus Jones are five snotty young men who sport stylish berets, think they're better musicans than Eric Clapton, better looking than Jason Donovan and write brilliant melodies. Crammed with rap samples, '60's psychedelia, pop sing-along-ability and Jesus H. Jones's growling vocal, it's mesmerizing. A trip through time taking hold of your conscience, refusing to let go.
Review of gig at Uxbridge Brunel University - NME - 6th May 1989
Jesus Jones attain intimidating degrees of in-your-face ferocity, but their clean-cut appearance appears to be harder to swallow: while they fully believe they're as cool as f---, the snag is that cynics, only too aware of such an arrogant stance, are subsequently deterred by the brazen swaggers. Yet for all their faults - if not because of them - Jesus Jones give a damn good gig.
"One day we'll have a single that doesn't go to 42," sighs Mike Edwards sweatily, face glistening like a well-baby oiled backside, and the perrenial nearly men whirl once again through the labyrinths of 'Liquidizer'. 'Move Mountains' and 'One For The Money' still bustle with freshness and vitality, guitars and technology meeting head on and knocking sense into each other.
Perpetually tagged one-song jokers by all but the devoted, for sure Jesus Jones have never mastered the flexibility of The Shaman, but that should come in time if tonight's performance is anything to go by: 'I Don't Want That Kind Of Love' sees Jesus Jones go Grebo, covering Crazyhead for Food's Chrimbo 45 with samplers growling like a rotten-toothed rottweiller.
And there's a hitherto unheard creation concerned with a certain Victorian which is less cluttered than its companions, less garish and almost poignant - not an adjective normally associated with Jesus Jones. "It's their dreamy number," swoons a companion, and the nail is slapped firmly on the head.
This deaminess may just be the extra dimension, the added ingredient to transform them from the nearly men into the really men. For, love 'em or loathe 'em, many of us are still striving to keep up with the (Jesus) Joneses.
Review of Town & Country Club Gig - Max Bell, Evening Standard - 23rd November 1989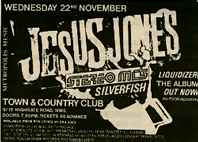 A great name but a great group? That was the question on the lips of many an independent follower of the new pop fashion when Jesus Jones stormed the T&C last night.
The affirmative answer didn't take long to arrive. Jesus "Mike Edwards" Jones and his four partners in sampled rock 'n' roll crime have so much energy and such an abundance of easy-going charisma that they demolish current nostalgia without thrusting their punk credentials down one's neck.
A manic hybrid of heavy metal and punk thrives in the permanent collision course of Jesus Jones's set. Mix in a ribald sense of humour and you have Jones pop with apologies.
Ironically the JJ boys are very polite to their audience despite tempting them with a sheet-metal thrash put through a liquidiser. There are mock solemn introductions for old favourites like Victoria and Broken Bones and an absence of ego that goes hand in hand with their DIY optimism.
Jesus Jones aren't offering false blueprints, they are simply a deal more relevant than the old guard who insist on hanging around.
Another Review of Town And Country Club, London gig - Source Unknown- November 1989
Mike Edwards has learnt the art of songwriting: 'Real Real Real' shows mastery of the three R's; 'Right Here, Right Now' passes as a thesis; and most other songs score high grades.
Jesus Jones do their homework properly. They play songs that have been prepared, pored over and polished before seeing the light of day - or the dark of night. But in the same way that they wouldn't wear spanking new deep blue jeans, live, they drag their songs through muddy and gritty riffs.
Whilst the three guitars get a good thrashing , Iain Baker gives his keyboard a good hiding. When he's not leaping round the stage like a hooked marlin - which isn't often - he tilts it, lifts it and pounds the stand on the floor. If he could afford to, he'd smash it into the Marshall stack Hendrix-style. But that wouldn't be sensible, so by the end of the set he settles for leaving it upside-down.
Jesus Jones are the werewolves of pop. Their mild, radio-friendly daytime fare becomes a seething beast by night. Other bands will find it hard keeping up with the Jesus Joneses.
Review of the Food Christmas EP - Sounds - December 1989
Christmas is coming, the goose is getting fat, the postie's getting pissed off...and Food Records have a scam on the way.
Clearly devastated by his bands' failure to make it big with their own songs, Food co-supremo Andy Ross hit upon perhaps his greatest idea since Zodiac Mindwarp: get the bands to swap songs for Christmas!
"As you know," quoth he, puffing on an unreasonably well-proportioned Havana, "Balfie and I like to have a bit of fun with our record label, and the Food Chritsmas EP is the latest manifestation of this.
"Every Christmas, record companies send each other and journalists the predictable batch of witty Christmas cards, all of which end up in the bin. It crossed my mind that it might be an altogether smarter idea to come up with something rather more permanent."
Well, neither Andy or Balfie could come up with anything, so brace yourselves for an EP where Jesus Jones cover Crazyhead's 'I Don't Want That Kind Of Love'. Crazyhead go for Diesel Park West's ' Like Princes Do' and DPW tackle the Jones laddie's finest wo-woah 'Info Freako'. And as it 'appens, the songs turned out so well the general public will be allowed to partake of the finished result when it's released at the beginning of next week.
Appropriately enough, the Jesus connection is the most festive. Going all House-y, Jesus Jones give the Crazyhead warhorse a good seeing to and it's a genuine improvement on the original.
"I felt that was the song I could do most with," says Jesus. "Plus I've been thinking a lot about what I want to do with my music and this is definitely more in line with the new Jesus Jones approach."
Diesel Park West too know how to make the - by now extremely tired - cover version gambit worthwhile. Their 'Info Freako' is comic, camp and, again, infinitely superior to the first rendering. Blimey, there was a song in there after all!
"At first I didn't know what to think about it," admits the holy one. "I was totally and utterly confused. But then I listened some more and now I think it's brilliant. It's very nice that someone thinks you've written a song that's worth their while working with. Obviously this whole idea is pretty self-indulgent but basically you've got three really good songs by three really good bands. I get paid well for doing this, you know!"
Hmmm. And what will Jesus get for his birthday then this year?
"Nothing. Probably a trip to Sweden."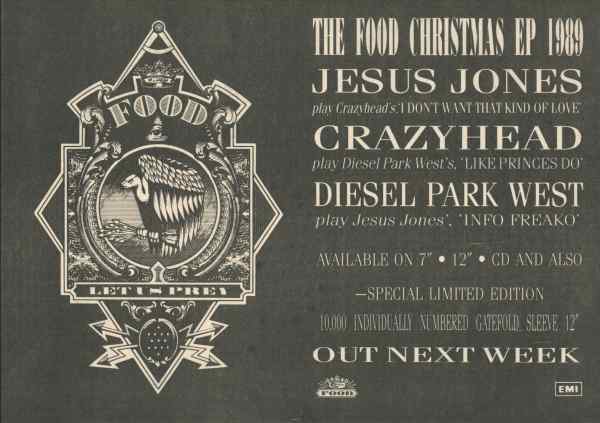 Questionnaire - Souce Unknown - Mike Edwards December 1989
Favourite Xmas Record?
None, absolutely none. Me and Mr Scrooge are together on that one.
Worst Xmas Record?
So many contenders but so few worth highlighting. None of them are bad enough to be funny.
Best Xmas Present?
Seeing next Xmas. And a flame thrower. And a virtual reality kit.
Worst Xmas Present?
Not seeing next Xmas.
When Did You Find Out That Santa Claus Didn't Exist?
Not only does he exist, he looks uncannily like my father.
Who Have You Knocked Off Your Xmas List?
No one - but there have been additions, I'm glad to say.
What Are You Doing New Year's Eve?
Not playing Finsbury Park.
Favourite Xmas Telly Programme?
Not sure yet, but we'll either hire it or buy it.
Worst Thing About Xmas?
People's office parties and the resulting vomit around London's transport system. That and Ms Halitosis trying to snog you.
Who Would You Have As Jesus In A Nativity Play?
Ho, ho, ho.
What Do You Do With Myrrh?
Myrrh. Myrrh.
UK Music Paper Poll Winners 1989
Sounds
Melody Maker
NME
Record Mirror
Best New Band
Brightest Hope
Best New Band/Artist
Best New Act of 1989
1. Stone Roses
2. Jesus Jones
3. Texas
4. Birdland
5. The Beautiful South
6. Skid Row
7. Claytown Troupe
8. Lush
9. Inspiral Carpets
10. Gun

1. Stone Roses
2. Inspiral Carpets
3. The Sundays
4. Lush
5. Jesus Jones
6. Birdland
7. The Beautiful South
8. The Pale Saints
9. The Wonder Stuff


1. Stone Roses
2. Inspiral Carpets
3. Jesus Jones
4. De La Soul
5. The Family Cat
6. The Beautiful South
7. The Sundays
8. Pale Saints
9. Birdland
10. 808 State
1. The Beautiful South
2. De La Soul
3. Soul II Soul
4. Lisa Stansfield
5. Shakespeare's Sister
6. Stone Roses
7. Black Box
8. Neneh Cherry
9. London Boys
10. Jesus Jones