Links
These are links to the best sites to use for up to date news and information:


Official Site
Contains all the news and up to date information you'd expect from an official site.


Jesus Jones on Facebook. Pretty well used and contributed to.


Jesus Jones on Myspace, run by Matt Barker (there is another JJ Myspace site that hasn't been updated in a while and also claims my site is the official site which it isn't! - stick with Matt's site)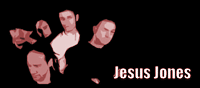 Elaine's Site
Often updated and an excellent source of news and information. Also has a great links page for Jesus Jones related stuff. Elaine has very kindly taken over the handling of Magazine which is a mailing list for Jesus Jones fans to keep in touch. Visit her site to see how to join.


The Jesus Jones Shop
For current releases and merchandise.


MI5 Recordings
The ex-record label of Jesus Jones! There may still be some stuff there.
Raveolution
This site has some great Jesus Jones links that are too many to list here apart from this one which is an interview from December 2012.
http://www.handheld.remakes.org
What the Hitman doesn't know about Jesus Jones tracks ain't worth knowing, he also runs a pretty damn good website if you're a fan of those classic games that were available for the C-64, ZX Spectrum, BBC Micro etc.

Click on the graphic to view Jesus Jones records and cds for sale at eil.com.
Photo Set Links
Jason's Luminaire Gig Photos
Jason's Shepherds Bush Empire Photos
Mike Leach's Gig Photos from Melkweg, Amsterdam, 10th April 1991